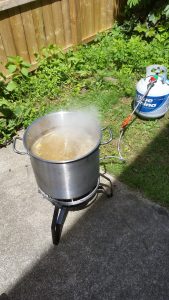 Yesterday was another long ride, so today was another rest day, and today we did our second boil for the new batch of Berliner Weisse we're brewing.
(Our method: We do the mash as usual, e.g. strike and sparge, and after a very short boil we cool the wort and pitchLactobacillusfor a preliminary fermentation.Lactobacilluseats sugar and produces lactic acid; it's the bug that turns milk into yogurt, and it gives a clean tart taste to sour beers. After a few days its job is done, and we perform a second, 60-minute boil, the "real boil" which in addition to killing the Lacto is where we toss in the hops. After that comes the regular yeast-based fermentation to convert the remaining sugar to alcohol.)
We were a little surprised and disconcerted when we opened the pot with the wort: it had a nasty off-odor, very much like cooked corn, and it didn't look as clean as the last batch. Fortunately, I'd read that this particular odor — an indicator of dimethyl sulfide — is common in certain types of beers if they'd been cooked but not thoroughly boiled, and is easily driven off with a longer boil. Like the one were about to do…
We'd done the strike-and-sparge on Monday, along with making a batch of a Bell's Two Hearted Ale clone, using an outdoor propane burner borrowed from Keystone Homebrew. That worked out so well that we bought our own on Tuesday when we returned the loaner, and today was our new toy's maiden voyage. Everything worked out great, the off-odor was driven off pretty quickly, and after cooling the wort we pitched the yeast. Both beers are now in carboys in the kitchen.