Well, the holidays are over, presents unwrapped, toasts drunk and the house guests have all gone home, now it's time to assess the past year and plan for the coming one…
I have only one resolution for 2017: I will ride my bike a lot more than I did last year. I mean, last year was kind of pathetic, even after accounting for my July mishap.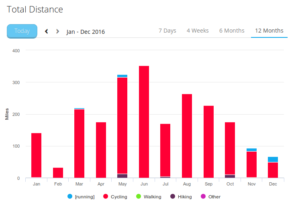 I have to say though, that this is mileage, and miles don't tell the whole story: my best and most enjoyable rides (other than June's long Jim Thorpe solo ride) were those camping trips in Jim Thorpe and Bald Eagle, and the big Fall group MTB rides — and on those rides I mostly held my own, I was nowhere near as out of shape as I feared. (I won't show it here, but I just looked it up, and my saddle time last year was almost double my 2015 and 2014 times. For what it's worth…)
Anyway, my resolution is to ride more.
These aren't resolutions, but here are some other things I want to be a part of my life in 2017:
Get a better grip on my finances
Pick up the cello again
Learn a few computer-assisted design things (mapping, 3D CAD, the web)
And finally, I want to find a niche in the gig economy, something to bring in some pin money
I'm already on my way for all but the last, but for that one I'm still not sure what I might want to do or how to make it happen.