Well, as it turns out, I didn't take many pictures, but I do have some stories…
Joe (Anne's brother) and I drove up Saturday, starting around 6:30 and arriving just about 3:30 at the cabin. Joe's friends had already arrived, one carload early enough to go out for a ride, so us remaining four got ourselves together and hit the trails, which were literally right across the street.
We did a little riding around, entering the trail system at Coronary and doing the Troll Stroll, one of the nearby black-diamond downhills, then climbing up some steep doubletrack to our starting place, where we managed to connect with the other two members of our group. The six of us continued to explore that part of the system, bombing down several other, very similar trails — smooth, steep and swoopy, with banked turns and names all starting with a "T" — and looping back up to where we started. It was a blast, but those guys were all strong and fast, and it was a hard ride — we regrouped fairly often, but I had trouble keeping them in sight both uphill and down. We basically worked out all the kinks from our long drive, got in a day's worth of riding and, when the afternoon started getting on we made our way back to the cabin.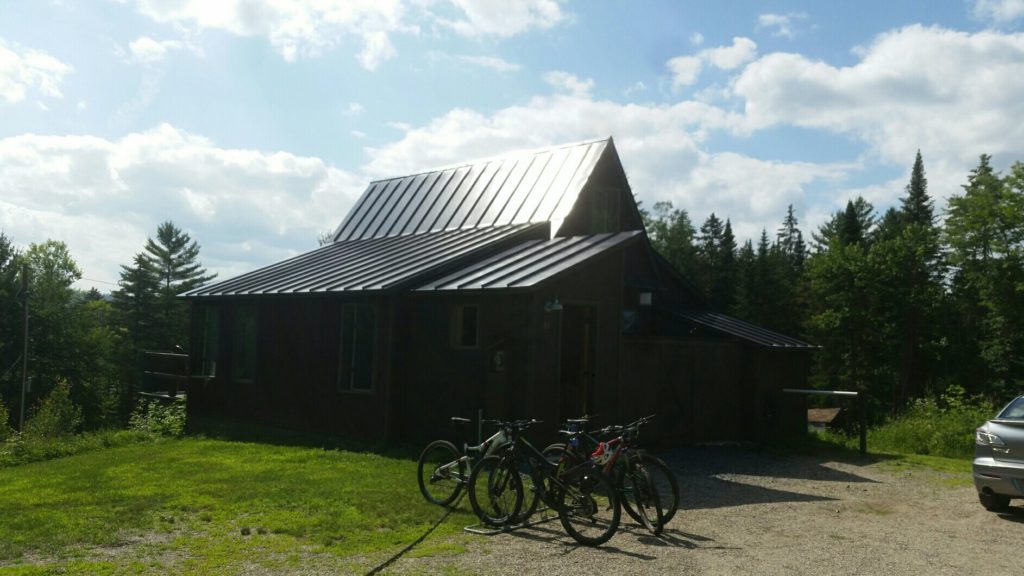 This (Razzle's Cabin) was perfect: it was cozy and compact, but it was also roomy enough for all of us — it said "sleeps five" but we packed six of us in there no problem — and it had a porch and a bike wash as well as an outdoor shower. It really was one of the nicest places I've stayed, and next time I go to the Northeast Kingdom I'm going to try and stay here again.
Dinner was in town. We ate outside, until it started to rain and we moved indoors. Back to the cabin and I at least slept the sleep of the dead. Our big ride day would start in the morning.
Sunday was a really nice day, and the trails were in great shape despite the overnight rain. In the morning we drove out to a new section and did two more gravity trails (Black Bear and Stormin' Norman), earning our turns each time with a 700 foot doubletrack climb. (By the way, these two trails were the best trails we did all weekend.) We then went over to, climbed up to, and rode down Moose Alley — this was the trail I missed last time I was here in 2011, when I noticed my frame was cracked, after climbing to the top. All went well for this attempt, though after those earlier trails it was a bit of a disappointment.
Our parking place for Moose Alley was nowhere near the end of the trail, so we climbed up a jeep road to get back.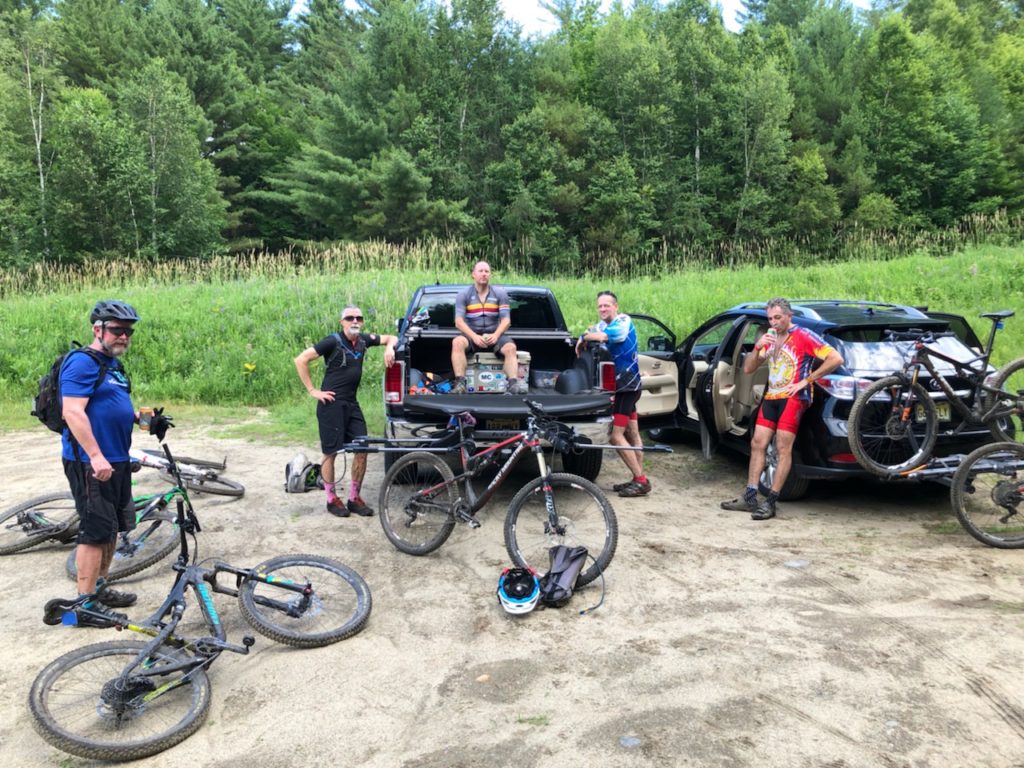 This was the only photo of us, taken by one of the guys after Moose Alley (and the jeep road climb) and before lunch, our next stop. We ate at the Tiki Bar in town, which is more like a pavilion or picnic area but it also had some food trucks. After lunch we went on a quest for Sidewinder, the legendary, ur-swoopy gravity trail.
We got a bit turned around looking for this one, but that meant we just rode more trails, and with the help of a few other riders we found the entrance. This was as fun as ever, but again I was a bit disappointed: Sidewinder is pretty hyped, and though it was fun it just seemed short, or smaller than I rememberd. (I later found out from other friends that they often do multiple laps on Sidewinder, to make it worthwhile. Live and learn.)
After Sidewinder we continued riding. I got separated, we met up again later and rode on, got semi-lost together, and eventually worked our way back to the cabin. Dinner downtown at the pub, then home and another deep sleep. Monday would be our last day.
We got up early and went back to the trail area with our new favorite trails, and though the other guys did a slightly longer ride, I basically did the same ride again: up, then down Black Bear, up again but only partway — they went to the top — and down Stormin' Norman.
And with that our riding was over. We went back to the cabin, cleaned up, and hit the road by 11:00; I was home by 9:00. There was much group texting the next day, post-vacation work blues but I kept my mouth shut: Anne and I went blueberry picking Tuesday with Renee.