So the week before last, Anne was on a self-supported bike tour with a few of her friends, Albany to here. They made great time and the ride ended sooner than expected, so she put together another ride, and I went along… We went with our friend Kellyn and did a three-day tour, a sort of triangle: from home to Jim Thorpe via roads and towpath, Jim Thorpe to Anne's sister's house in Tamaqua, and home via the towpath again. I have no touring-specific bike, so I rode my trusty old Iguana, which may need some bike-maintenance love but does have a rear rack.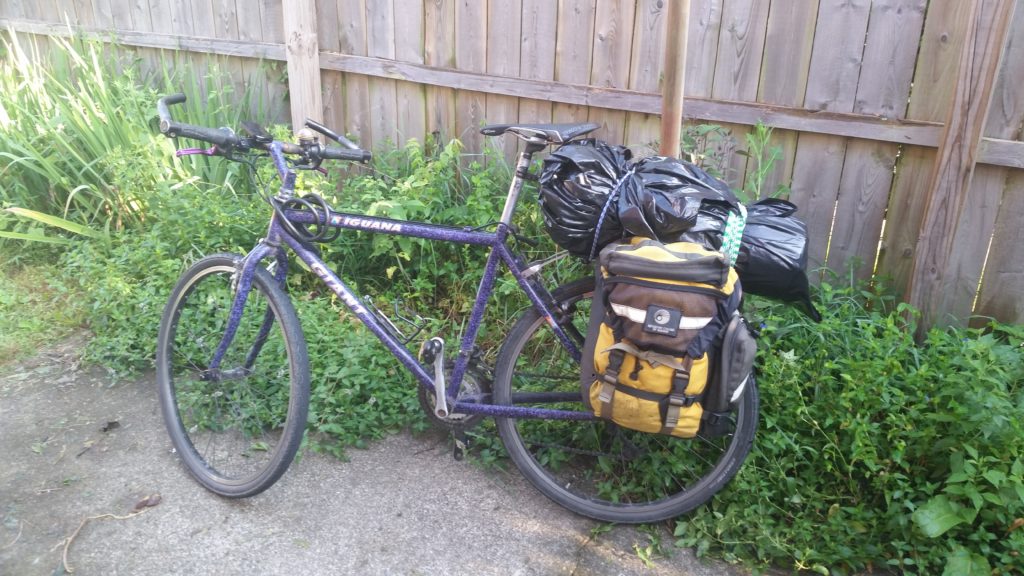 We started Thursday morning about 8:00, just after Kellyn got to our house. Our route took us up toward the south side of Blue Mountain, then over to the river, via the back roads near Point Phillip and Danielsville, before we picked up the D&L at the Lehigh Gap Nature Center. We rode the rest of the way to Jim Thorpe on the trail, but had to do a bit of bushwhacking in totown: the Mansion House Bridge is scheduled to open tomorrow, but it was closed to all traffic last week. No matter, we got into town and had a huge lunch/dinner (with a few beers) before the final leg — all uphill — to our campsite, right on the shore at Mauch Chunk Lake. Our camp was fairly spartan (no fire, very little food), but we didn't care: we took our showers and were asleep before the sun was down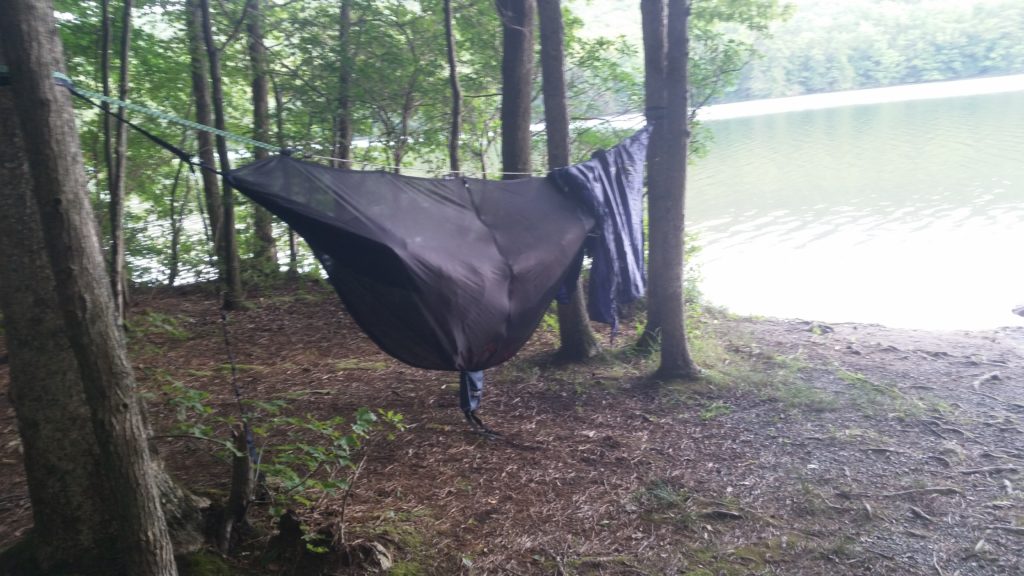 Friday we got an early start for Tamaqua, but before we got too far my bike was making the most horrible squeaking sound. It happened every time I turned the handlebars, and I concluded that the problem was in the headset; we stopped, I turned the bike over, and saw (through the spot where the bearing seal should have been) that the bottom bearing was exposed, and bone dry, and most of the balls had fallen out — there were only two ball bearings still in the race, sitting there like lonely buck teeth in an empty mouth. Uh oh…
I packed a bunch of thick lube into the bearing, tightened it down and hoped for the best. The squealing was gone, and I figured I could at least limp the rest of the way to our destination; I was stressing though, and when we got into town and stopped at a coffee-less "cafe" I managed to leave by Camelbak behind… This was the shortest leg of our trip, but it was starting to feel like a loooong day. But we continued on, grabbed some lunch at Heissler's Dairy Barn, and then all of a sudden we were at our destination. A quick (and very welcome and refreshing) dip in the pool, then Ray drove me back into town, where we bought some beer, retrieved my Camelbak, and stopped at the bike shop to get some grease and ball bearings. Back to the house, where it was a surprisingly simple matter to pop some balls back into the bearing — this was my greatest "MacGyver" moment ever — and I could finally relax and enjoy the afternoon. This was awesome because Lorraine and Ray had prepared us a feast, and Lori & Chris came over — and when it started to storm, they put us up at their place for the night. We were living in the lap of luxury!
We got up the next morning just before dawn, and went with Lori & Lorraine to walk through a nearby field of sunflowers just as the sun came up. It was a misty, overcast sunrise, but still very beautiful.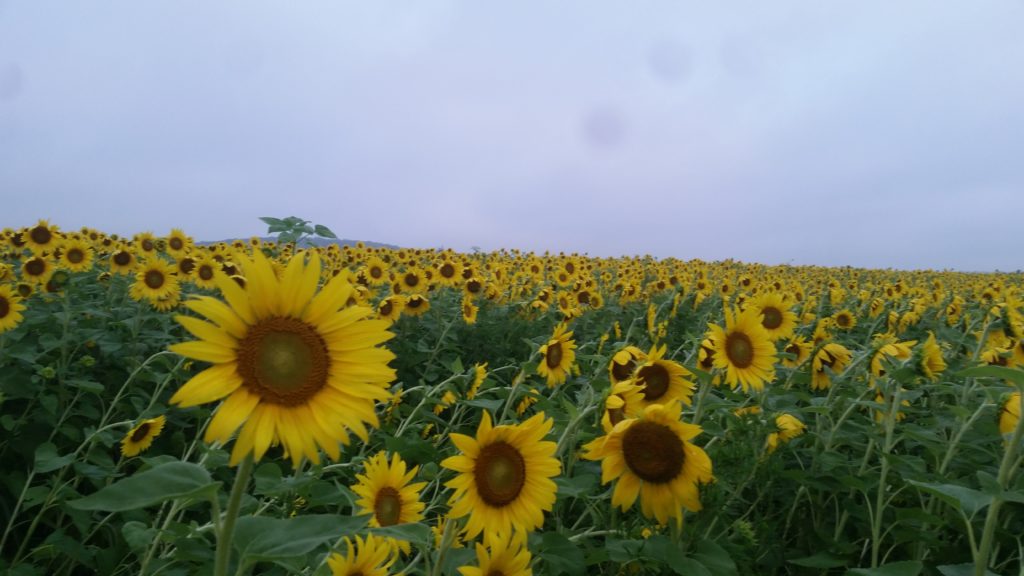 We were back on the road before we knew it, and had a long, and beautiful, but thankfully uneventful, ride back home — and that was that! Three days, 113 self-supported miles over mixed road and trail, good company and some beautiful scenery. I got home and took a "nap" that lasted until the next morning.