I did an awesome, and fairly long, MTB ride in Jim Thorpe this past Sunday. It was a beautiful summer day, and Anne and I went up to Mauch Chunk Lake; she did a long run on the Switchback and then visited her mom while I did my thing over Pisgah and Broad Mountains. I didn't realize it until I was pretty far along — Mountain Bike Weekend is 11 years dead and gone — but this would have been the right weekend for my annual JT Epic.
Ride stats: 27.49 miles in 5:56 (3:53 actual moving time), 2996 feet of climbing, 2387 calories burned. This doesn't quite meet my old criteria for "epic" status (40 miles / 8 hours), but I'll definitely call it a "solo mini-epic," and like I said, it was a beautiful day: warm and sunny and breezy, really a perfect day to spend in the woods.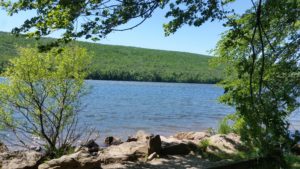 We got up to the lake just about 11:00, and both started not long after, Anne taking off a few minutes before me — I had to stop and take a few pictures of the lake before I left, it was just amazingly beautiful. The pictures I took don't really show it, but it was a pretty windy day, and the lake had whitecaps on it at times, but in the meantime the sky and lake were blue and the mountains were green…
My plan was to take the upper switchback over to the Wagon Road, pick up the Rhododendron Trail and take that down to the RR tracks, and get up Broad Mountain via Rt 93 and the old James's Run Challenge. From there I'd do some backing and filling to find myself at the Uranium Road, then I'd take Pine Tar back to the Broad Mountain jeep roads and down the Bear Trail to the pipe crossing and back via the RR tracks into town, where Anne would pick me up. I was budgeting four hours riding solo I was avoiding the more difficult, riskier (and slower) trails, and figured my pace would be quick enough. I set out after Anne about 11:15, caught up with her at the intersection of the Upper Switchback, and we went our separate ways from there.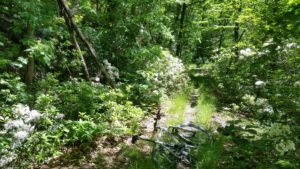 There were a number of times on this ride when I was surprised by how much I liked some trails that I normally don't rate highly, or ride much; the Upper Switchback was the first of these. It was beautiful, with mountain laurel blooming along both sides, with the mountain rising like a cliff on the left (and dropping like one on the right), and the little ribbon of brown dirt disappearing into the greenery.
After a while I noticed something else too: there was a lot of noise in the air, and I finally realized I was hearing a brood of locusts. I had no idea that there even was a brood hatching now, but there they were, or at least I could hear them on the hillside, in among the mountain laurel.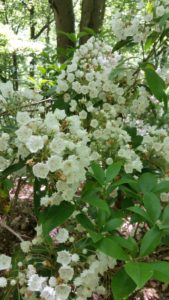 I've always loved these guys, remembering them from many summer rides on this same mountain, and here is where I realized that I was essentially riding on what would have been Mountain Bike Weekend — it was always some time around Father's Day, when the mountain laurel was in its glory and the locusts would be singing their song, which I liked to think was a familiar sound, and already ancient, when the dinosaurs heard it. In years when a brood hatched, you almost had to shout to be heard on the trail, but this wasn't as crazy loud, and when I stopped I didn't see any flitting about nearby. I took a few pictures of the blooms and continued on my ride.
I crossed the cliff, rode to the top of Pisgah Mountain and down the Wagon Road (where I had my first "real" crash on a bike, more than 25 years ago), and picked up the Rhododendron trail behind the playground. Rhododenrons and mountain laurel are pretty closely related, at least in my mind, but these guys were nowhere in bloom — it was just a dense, dank jungle trail, though it seemed to be in good shape and get quite a bit of use. Eventually it dropped me down to where I crossed Rt 209.
This next section didn't look like it got any use at all; the last person on it might have been me, on my last ride through here, years earlier. I had to do a bit of bushwhacking to get to the RR tracks but from there it was pretty easy to follow, out to Rt 93 and up Broad Mountain.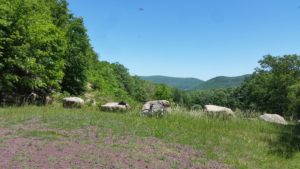 About halfway up the Broad is where I picked up my next trail. I pulled into the Game Lands lot just next to the jail and decided to take a break and a photo opportunity. I took this picture in the general direction of where I just came from; the closer mountain in the background (on the right) is Pisgah, the further one is the one with the fire tower (you can barely see it but it's there if you look) south of town, and you can see East Mauch Chunk, the upper part of Jim Thorpe, nestled between the two. Once again I was surrounded by locusts, but this time you could see them everywhere — they're the dark blobs in the sky in this picture. I suspect that they're attracted to the bright colors of bike jerseys, and soon they were landing all over me, singing for a second, and taking off. The first time it was pretty alarming, I'd forgotten how crazy and loud each individual song can sound. Then I got used to it, until I realized that they were all really horny, and singing to me… It took a little work, but here is a selfie with one of my many admirers.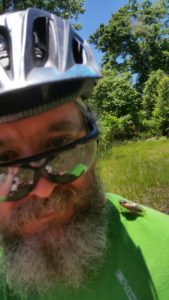 The next part of the ride was up what remains of the James's Run Challenge, a difficult uphill trail and probably the hardest part of my day, but beautiful, and shockingly lush considering the hardscrabble look of the ground. More mountain laurel, more locusts, and now a whole lot of ferns and pines too, and then I was at the top. I cut through James's Swamp and picked up the Deer Path. The Game Lands people have made a real mess of this area, with heavy stone put on the jeep roads, and big sections bulldozed or burned out (actually I'm OK with this one), but the Deer Path was in relatively good shape, and also looking beautiful, more woods and pin oak, but also big regions carpeted, under the canopy, only with ferns — it seemed you could see for miles. It was a surprisingly park-like look. (I happen to like trails best when they get some use, but not a whole lot. This way they are easy enough to follow but the surface stays pretty pristine and the vegetation stays tight to your sides. Most of the singletrack I rode today, but especially the stuff on Broad Mountain, was in this condition.)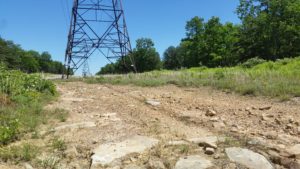 Eventually I came out at the power line right-of-way, and stopped to take a break. Here is where I looked at the time (maybe 3 hours in), noted that I was way behind schedule and decided to do a bit of reconfiguring. I decided to skip Shovel Head an the Uranium Road, and just use the Deer Path Extension to get to Pine Tar, and I texted Anne saying I would probably be more like 5 hours (after her run she was going to hang out by the lake for a while then visit her mom in town, and she would pick me up at the end of my ride). While I did all this I noticed how different the power line area looked compared to everything else I'd seen so far to I snapped this picture.
Deer Path Extension came up next, and this was the second big, pleasant trail surprise of the ride. There were a few branches blocking the trail — which I attributed at first to lack of trail use, but then noticed a lot of dead looking small trees everywhere, not sure what was going on — but on the whole the trail was in great shape, covered in mountain laurel blossoms, and way more fun than I remembered. I was actually left wondering why I always ride past this trail to do the Uranium Road instead.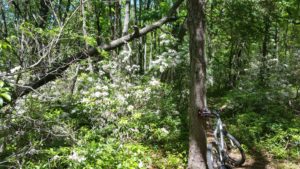 This eventually brought me to the Pine Tar intersection, where I took my last photo of the mountain laurel. (By the way, up here on the flat top of Broad, you could hear the locusts in the distance, but they seemed to mostly be on the slopes rather than the flats.) Pine Tar turned out to be all that I remembered (and then some), but I managed to ride most, but not all of the difficult spots — I surprised myself making some, and I surprised myself not making some. I was getting a bit tired.
Much of the stuff after Pine Tar was uneventful, mostly just jeep roads (with that stupid ballast covering them), but I id get to bump into two separate groups of hikers, somewhat turned around and miles from where they should have been (Glen Onoko). I was glad to help them get back on track.
Eventually I came back to James's Run Challenge, and I took the turn for the Bear Trail, which was actually much easier to follow than the last time I'd been there. Over the old ruined dam, drag the bike up the cliff-like bank and onto the trail, and I was on my semi-last leg. Down the hill, over the pipeline — one big regret is that I didn't take a picture, it was perfectly framed by the creek and foliage — and then I was back on the RR track, texted Anne one last time, and (miracle of miracles) I had a tailwind all the way back to town. Anne was waiting at the station when I arrived.